Employment Tribunal Costs

Employment Tribunal Fees
You can now bring a claim for free to the Employment Tribunal. Just because there are no employment tribunal fees doesn't mean the whole process will be cost free.
One of the first things that people want to know before they consider taking action against their employer is how much it's going to cost. Financial costs you need to think about are:
Employment Tribunal Costs
This is where you can either reduce your employment tribunal costs and do it yourself, or get a trained solicitor to do it for you.
Representing Yourself - the costs of preparing the claim (photocopying, travelling, researching, research materials, postage). Expect to pay upwards of £100 – £1,000; or
Hire an Employment Law Solicitor - Expect to pay anywhere between £1,000 – £1m+ depending on how far the claim proceeds. You may be lucky and be offered a settlement after one letter from your lawyer. Be aware your legal costs can eat up any tribunal award. Remember the Russian banker who won £3.2m in tribunal for sex discrimination? She had £2m of legal fees to pay and ended up bankrupt.
The average cost of employment tribunal to employer is £8500, according to the British Chamber of Commerce. How much will your employer spend? Can you afford to fight them?
This is rare, and usually only happens if you haven't followed the correct process, or haven't cooperated throughout the process. It can also happen if you withdraw your case at the last minute. On the same note, if you win, your employer may be ordered to pay your costs too. Below are sections 74 and 76 of the
The Employment Tribunals Rules of Procedure 2013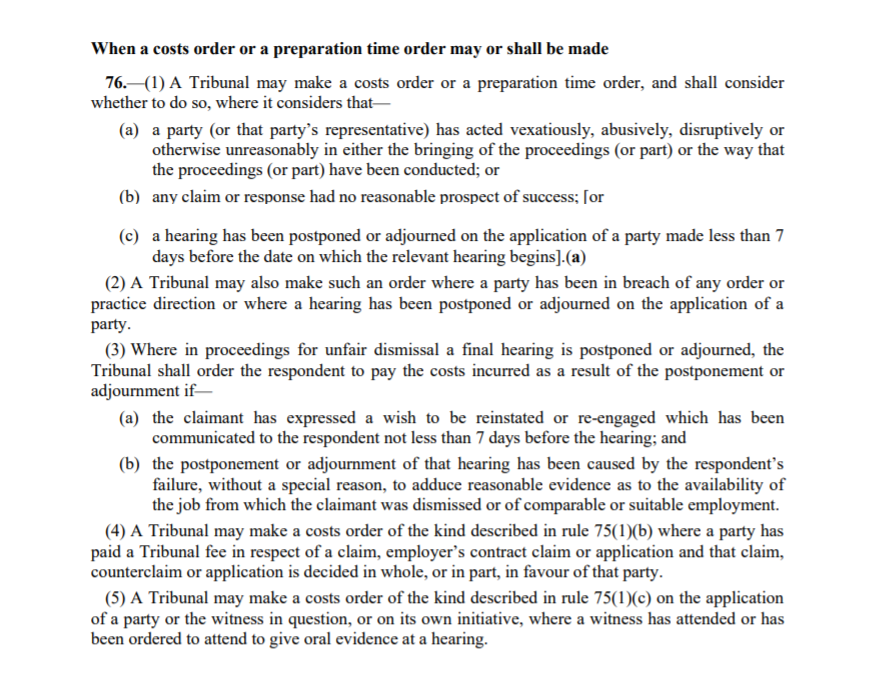 'Costs' might include legal fees (solicitor's fees) and reimbursement for the time that the winner and any of their unpaid helpers or advisors have spent preparing the argument for court, (£40 per hour).

Avoid being made to pay the respondent's costs:
Check first that your claim is strong, that the respondent truly has behaved unlawfully, and that you have enough evidence to prove it. Your trade union may be able to advise you.
Tell the truth, the whole truth; do not lie, or withhold any information about your claim.
Cooperate with the judge. If you are asked to gather evidence or disclose information, do so.
Attend your hearing, or the hearing could go ahead without you. The employment tribunal may judge your case and may order you to pay your respondent's costs.
If you decide to withdraw your case, try to do it as early as possible. Avoid dropping the case too closely to the date of your hearing.
Other employment tribunal costs
Besides the financial employment tribunal costs, you must consider the emotional cost and the hours, days and weeks of your time that running an employment tribunal claim will take. Claimants who have been through the process are about 50/50 on whether they would have run the claim if they had known how difficult they were going to find it, emotionally and financially.
Many claimants are so stressed and distressed at the process that they develop symptoms of anxiety and depression. There are ways to manage stress and anxiety but having the right mindset and expectation is crucial for seeing a claim all the way to the end, whether by settlement or Tribunal. Remember that if you have to withdraw your case late, whether for personal or financial reasons, you may be ordered to pay the other sides costs.
Still not sure if going to the employment tribunal is the right option for you?
We can review your claim and recommend your best path forward.
Employment Law Specialist | Competitive Quotes | Straight Talking Legal Support
Click here to read our next article about the employment tribunal process. >>
This content is provided free of charge for information purposes only. It does not constitute legal advice and should not be relied on as such. No responsibility for the accuracy and/or correctness of the information and commentary set out in the article, or for any consequences of relying on it, is assumed or accepted by any member of our company. For employment law advice please get in contact and speak to your employment law solicitors.
Find Out More:
Talk to a Professional
If you're facing an Employment Tribunal, we can help.
Just get in touch today to speak to one of our employment law specialists
Employment Law Friend Privacy Promise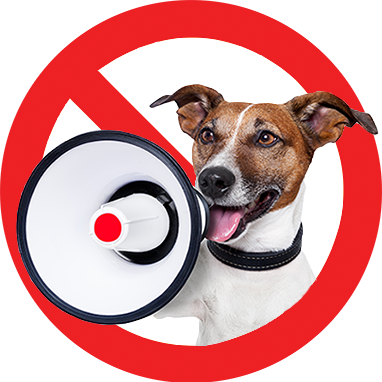 We promise not to share any of the information you provide to your employer.
What you tell us, stays between us.
We're loyal like that.

Click for more information. Terms apply.