Sample grievance letter for wrongful termination
Have you been
wrongfully dismissed?
By raising a grievance you start the process to defend your case should you need to take the matter to the
employment tribunal
. Download a our sample grievance letter for wrongful termination so that you can get your issue
investigated
.
Your employer should respond to your grievance letter in accordance with their grievance policy or within a reasonable time.
| | | | |
| --- | --- | --- | --- |
| | | | |
| Cost Effective | Drafted by a Solicitor | Instant Download | Rated Excellent on Trustpilot |
What's included:
details of the complaint
explanation of why the problem is unlawful (Use this guide to help you)
request for the company to correct the problem
Frequently Asked Questions
Can you help me raise a grievance over wrongful, unfair or constructive dismissal?
We provide fixed fee services with our employment law specialists who will assess your case, or help you to compose your grievance letter, if you'd prefer not to use our downloadable documents to Do-It-Yourself.
This document has been drafted by someone with extensive knowledge of employment law to help you in a cost effective way. Employment Law Friend is not regulated by the SRA which allows us to keep our services affordable. If you want to get regulated legal advice on your specific case then you should get in contact for help from one of our regulated panel solicitors.
Whether you need help drafting your Wrongful Termination Grievance Letter or want us to handle your application to the Employment Tribunal, our legally trained advisors or panel solicitors provide specialist advice at competitive rates. We will even help you work out whether you have a case worth pursuing.
Employment Law Specialist | Competitive Quotes | Straight Talking Legal Support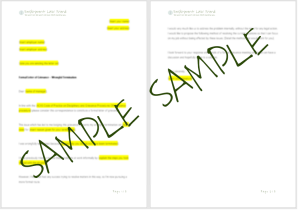 "First time i used this service, Very friendly and easy to follow process to book an appointment via the website and link. Information was direct (which you want) had the advice i needed, easy to ask question, great service, I would use again, Thanks"