Job Reference Example for Employers
What is an employment reference?
An employee reference is a formal comment on your employee's performance. You can give a basic reference (factual reference) or a detailed reference (character reference). Download our detailed job reference example using the button on the right.
Basic CV references

Detailed CV references

Job title or description
Date of employment
Date employment ended

Answers to any questions
Details about your skills, ability and experience
Strengths and weaknesses
Sickness and Absence levels
Details of any disciplinaries
The reason employment ended
Our downloadable job reference example shows what to expect from your employer and what to aim for when writing a reference for your own employees.
Remember, references cannot contain:
Misleading information
Inaccurate information
Irrelevant personal information, including any protected characteristics, unless they are an occupational requirement.
Frequently Asked Questions
Can you help me make a claim over an unfair reference?
We provide fixed fee services with our employment law specialists who will assess your case to see if you have a claim to pursue, or help you to compose your grievance letter.
Job reference example: Has your employer given you an unfair reference?
There is much more to winning your case than simply being in the right, our specialist employment solicitors know all the laws and tactics, to make sure you get the best chance at a fair settlement. Get in contact with us and see how we can help.
Employment Law Specialist | Competitive Quotes | Straight Talking Legal Support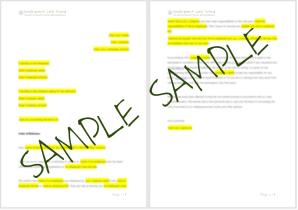 "First time i used this service, Very friendly and easy to follow process to book an appointment via the website and link. Information was direct (which you want) had the advice i needed, easy to ask question, great service, I would use again, Thanks"