Equal pay grievance letter example
Are you being paid less than a member off the opposite sex? It's time to close the gender pay gap. By raising a grievance you start the process to defend your case should you need to take the matter to the
employment tribunal
. But you may find that a
grievance procedure
is enough to push your employer to correct your pay. Read
this article on equal pay
.
Your employer should respond to your grievance letter in accordance with their Grievance Policy or within a reasonable time.
| | | |
| --- | --- | --- |
| | | |
| Cost Effective | Drafted by a Solicitor | Rated Excellent on Trustpilot |
What is included:
details of the pay discrepancy with your chosen comparator(s)
request for the company to increase your pay to match, including benefits
Due to the complexity of equal pay claims we strongly advise proper legal advice when raising a grievance regarding equal pay or equal treatment.
This needs the expertise of a solicitor to outline the reasons if, or why, the discrepancy is unlawful in your particular case, assess your claim and recommend the best action legally available to you.
Get in touch to book in with our select panel of employment law experts.
Contact us
Employment Law Specialist | Competitive Quotes | Straight Talking Legal Support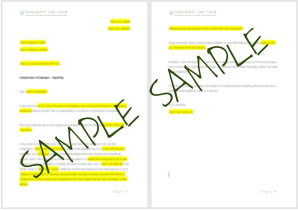 "First time i used this service, Very friendly and easy to follow process to book an appointment via the website and link. Information was direct (which you want) had the advice i needed, easy to ask question, great service, I would use again, Thanks"