Employment Tribunal Costs Warning Letter
If you would like to recover your costs of taking your employment law dispute to the employment tribunal, you must warn your opponent that you will make an application to the employment tribunal for a costs order to be made against them.
Your employer should respond to your tribunal costs warning letter within a reasonable time. For example, you may put a deadline by which you ask them to withdraw their case, otherwise you will make an application for a costs order.
| | | | |
| --- | --- | --- | --- |
| | | | |
| Cost Effective | Drafted by a Solicitor | Instant Download | Rated Excellent on Trustpilot |
What's included:
details of the case
explanation of why their case could be subject to a costs order
request for your opponent to withdraw their case
Should I be worried about my employer's Employment Tribunal Costs warning letter?
Sometimes a threat of costs is nothing more that scare tactics and can be disregarded, other times they're very serious.
If your employer really does have a chance of winning their costs against you, you can be ordered to pay all of their legal fees, which may be in the tens of thousands, depending on your case.
Our specialist employment law advisor can explain which is most likely in your case and advise on how best to respond.
Employment Law Specialist | Competitive Quotes | Straight Talking Legal Support
Frequently Asked Questions
We provide fixed fee services with our employment law specialists who will assess your case, and help you to determine whether you are eligible to apply for costs. Our panel solicitors can draft your letter for you.
Employment Law Specialist | Competitive Quotes | Straight Talking Legal Support
This document has been drafted by someone with extensive knowledge of employment law to help you in a cost effective way. Employment Law Friend is not regulated by the SRA which allows us to keep our services affordable. If you want to get regulated legal advice on your specific case then you should get in contact for help from one of our regulated panel solicitors.
Whether you need help drafting your letter, or want our excellent panel solicitors to take over your case, our legally trained advisors or panel solicitors provide specialist advice at competitive rates. We will even help you work out whether you have a case worth pursuing.
Employment Law Specialist | Competitive Quotes | Straight Talking Legal Support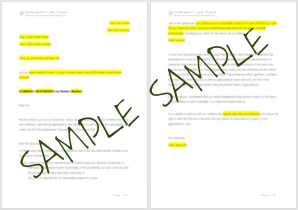 "First time i used this service, Very friendly and easy to follow process to book an appointment via the website and link. Information was direct (which you want) had the advice i needed, easy to ask question, great service, I would use again, Thanks"